Perry's Gun Shop says NO to being a Verifier
---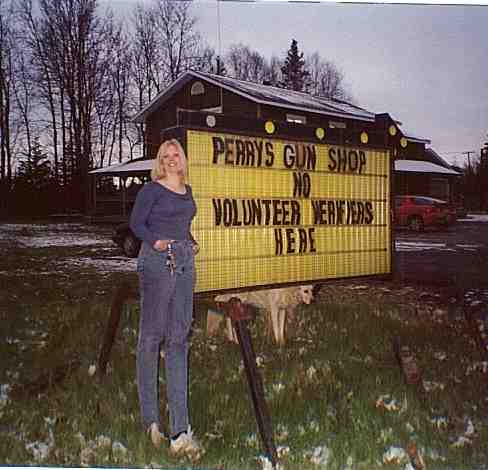 Jane Perry making a statement in front of Perry's Gun Shop "NO Volunteer Verifiers Here"
---
Canadian firearm dealers and wholesalers can say NO to being volunteer verifiers by faxing the Ontario Co-ordinator of the Verification Network at 1-613-993-0892.

Please let us know where your dealership stands and pass this on to your colleagues. Send comments to:
Wes At Ellwood Epps
Hwy, 11 N
Orillia, ON
L3V 6H3
e-mail: epps@encode.com
Jane at Perry's Gun Shop
1325 Great Northern Rd.
Sault Ste. Marie, ON
P6A 5K7
Phone/Fax: ( 705 )759-8346
---
A DEALER DIALER UPDATE
If you have a dealer near you who insists on becoming a verifier, DO NOT PANIC. This is strictly a volunteer program and they can "pull the pin" at at any time. There is nothing perventing this verifier from walking away on December 2, 1998 or January 5, 1999 etc.....
Do not phone your provincial CFO unless you are prepared to sit on the phone for up to an hour. Dealers are complaining that they are getting bounced from person to person because no one is able to answer their very pointed questions. As I have said before, these offices are scrambling all over themselves !
If you are a dealer and care to relinguish you verification number, please contact your CFO.
CFO BUSINESS CONTACTS
ALBERTA
Shirely Mack
Office of the CFO
Phone: ( 403 )412-6900
Fax: ( 403 )495-7970
BRITISH COLUMBIA
Anita Fleice
Phone: ( 250 )356-6496
Fax: ( 250 )356-9160
MANITOBA
Dixie Brady
Phone: ( 204 )984-0715
Fax: ( 204 )984-0670
NEW BRUNSWICK
Heather Cull
Phone: ( 506 )453-3775
Fax: (506 )453-3521
NEWFOUNDLAND
Ray Kavanagh
Phone: ( 709 )729-6511
Fax: ( 709 )729-3224
NORTHWEST TERRITORIES
Torsten Kruze
Phone: ( 867 )920-8393
Fax: ( 867 )920-8389
Please do NOT personally attack your dealer should he or she decide to become a verifier. It is only human nature that people come out fighting if they feel like they are backed up against the wall.
Keep up the fight !!!!!
Donna Ferolie
---
Return to WHYFOR Canadian Firearm Info page